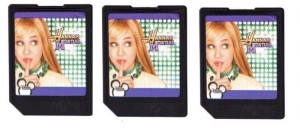 Digital Blue Selects Infinite Memories' Revolutionary Diskovery™ microSD  Media Cards
For Disney Mix Clips Line
Infinite Memories, the world leader in OTP FLASH product, announces today that they have been chosen by Digital Blue, the licensed manufacturer of Disney Mix products, as the supplier of microSD media for Disney Mix Clips. Digital Blue has chosen Diskovery™ technology since it is specifically designed to meet all the requirements for content distribution.
Diskovery™ provides the following advantages over existing FLASH memory based products;
Revolutionary patented 4-bit per cell technology is the reason why Diskovery™ is the lowest cost solution available.
One Time Programmable (OTP) features ensures that the content cannot be erased by mistake.
Diskovery™ is more reliable than normal FLASH supporting more READs and a longer lifetime.
Disney Mix Clips are postage stamp size memory cards that contain real digital music – complete albums with full-length songs from Walt Disney Records that can be played on the Disney Mix Stick line of MP3 players. Disney Mix Clips also work with other WMA players with MMC/SC Card Slots.
In addition to producing the best hardware for media distribution, Infinite Memories provides content distributors with an end-to-end service. "You provide the content we do the rest" including; card production; microSD title printing, SD card production and labeling, and consumer packaging.
Digital Blue CEO Tim Hall says "our partnership with Infinite Memories provides stability in an otherwise volatile flash memory market. With the Diskovery technology, Digital Blue is able to provide quality product at the lowest possible price."
Infinite Memories CEO Ramy Langer says : "We are very excited  to work with Digital Blue. Digital Blue's innovative products are specifically designed to support the delivery of quality content systems for children and teens. Their products are an excellent showcase for our cutting edge media components."
The physical media chosen by the content industry is constantly evolving. Music has evolved from Records to Tape, from Tape to CD and now from CD to FLASH. The days of the CD based Walkman are over, consumers now use MP3 Players and mobile phones for their on-the go consumption. These devices cannot use a CD, but all of them support FLASH memory. Diskovery™ has been specifically designed to meet the needs of on-the-go consumers.
Content Distributors need a one-stop shop. A service provider that is tailored to meet their needs, Infinite Memories lets the distributor focus on the content and we handle all the other issues. Within a minimal timeframe we accept an order, produce the memory cards, load the content, create the labeling, complete the consumer packaging and ship.
About Infinite Memories:
Infinite Memories was established in 2007, the company has developed unique Flash memory technologies including the most advanced silicon memory platform for content distribution.  Infinite Memories created QUAD NROM technology to OTP (One-Time-Programming) design, combined with advanced system solutions to address the various SD and USB formats and typical hosts.  Infinite Memories technology features unprecedented 4 bits/cell and ~1 F2/bit density, realizing 1Gb, 26 mm2 die, with superior reliability having 100 years retention and 100M read cycle capabilities, NAND compatible performance and true field programmability capabilities. For more information please visit www.infinite-memories.com.
About Digital Blue:
Digital Blue is a leading maker of electronics and software for the youth market. Digital Blue's consumer electronics are used by millions of kids and teens worldwide each day. Award-winning educational products, including the Smithsonian Computer Microscope and the Digital Movie Creator, are used in classrooms around the world. Digital Blue has also partnered with LEGO to develop an innovative line of youth electronics for the summer of 2009.  Upcoming hot products include the LEGO MP3 player, LEGO Boom Box and LEGO Alarm Clock Radio. For more information please visit www.digiblue.com.
Contact:
Infinite Memories:
Carmi Bogot carmib@infinite-memories.com,
Digital Blue:  Julie Gibbons Van Matre julievanmatre@digiblue.com